Circular Knit items: T-Shirts, Polo shirts, Sweat shirts, Fleece Jackets & suits, Hooded sweat shirt, Tank tops, Blouses, Pyjamas, underwear, sportswear, work wear. corporate uniform etc.
Yarn: 100% cotton Carded /Combed , 95% cotton 5 % Lycra, 65% Polyester 35% Cotton ( P/C), 60% Cotton 40% Polyester (CBC), 85% Cotton 15 % Viscose (Grey Millange), 98% cotton 2% Viscose ( Ecru Millange) etc.
Fabrics: Single jersey, pique, Rib, interlock, double knit, fleece, Terry/French Terry, Mesh, Spandex etc.
Here is some samples, we can make any types basic to fashionable printed, embroidery solid colour and white. please send your inquiry confidently.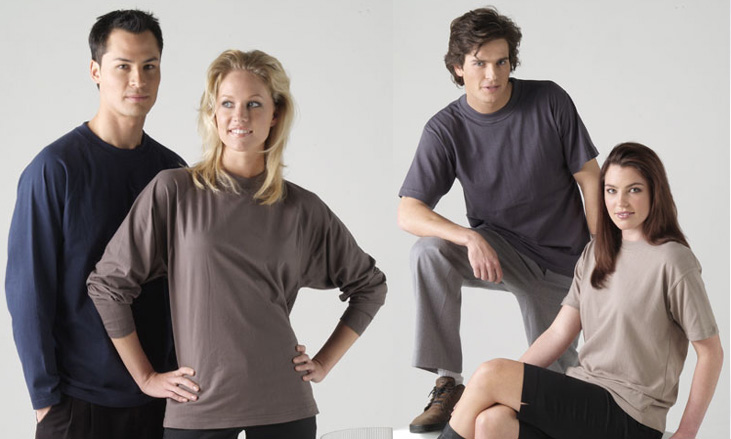 | | | | |
| --- | --- | --- | --- |
| | | | |
| Baseball Long sleeve Tee | Baseball T-Shirt | Beauty Ringer | Blended Ring Spun Polo |
| | | | |
| Cap Sleeve T-Shirt. | Casse Hood Active Fleece Gilet | Classic Tank Top | Continental Blouse Sleeveless |
| | | | |
| Cool Fit Polo Piping | Cool Fit V-Neck T-Shirt | Ladies Long sleeve Pique Polo | V-Neck T-Shirt |
| | | | |
| Full Zip Top | Game gear Track Polo Ladies | Girls Background Tee With Pyjama set | Heavy Youth Full Zip Hooded Sweat |
| | | | |
| Heavy Youth T-Shirt | Hooded Sweat shirt | Vest Top | V-Neck Raglan T-Shirt |
| | | | |
| Kids Set-In Sweat shirt | Ladies Body Fit Tee | Ladies Cap Sleeve Shirt | Ladies Fashion Tops |
| | | | |
| Ladies Fitted Micro Jacket | Ladies Fleece Jacket | Ladies Hooded V-Neck | Ladies Long Sleeve Thermal Shirt |
| | | | |
| Ladies Kate Polo shirt | Ladies Polo Blended Fabric | Ladies sheer Henley | Ladies sheer scoop neck t-shirt |
| | | | |
| Ladies Work wear Polo Shirt | Ladies V-Neck Subli-T | Lady Fit Rib Polo | Lady Fit Zip Sweat |
| | | | |
| Mini Pique Polo | Ladies Rugby Top | Premium Polo | Premium Tipped Polo |
| | | | |
| Spaghetti-T Bicolour Spandex | Ultra Blend T-Shirt | Menís Jog Pants | Kids Jog Pants |
| | | | |
| Jog Pant with elasticised cuffs | Ladies Sweat Pants | Ladies Velours Cargo Pants | Lady-Fit Jog Pants |
| | | | |
| French Terry Pant | Yoga Pant | Fitness Shorts with Spandex | Ladies Short |